Ceramic collar for dogs - chic new trend against ticks?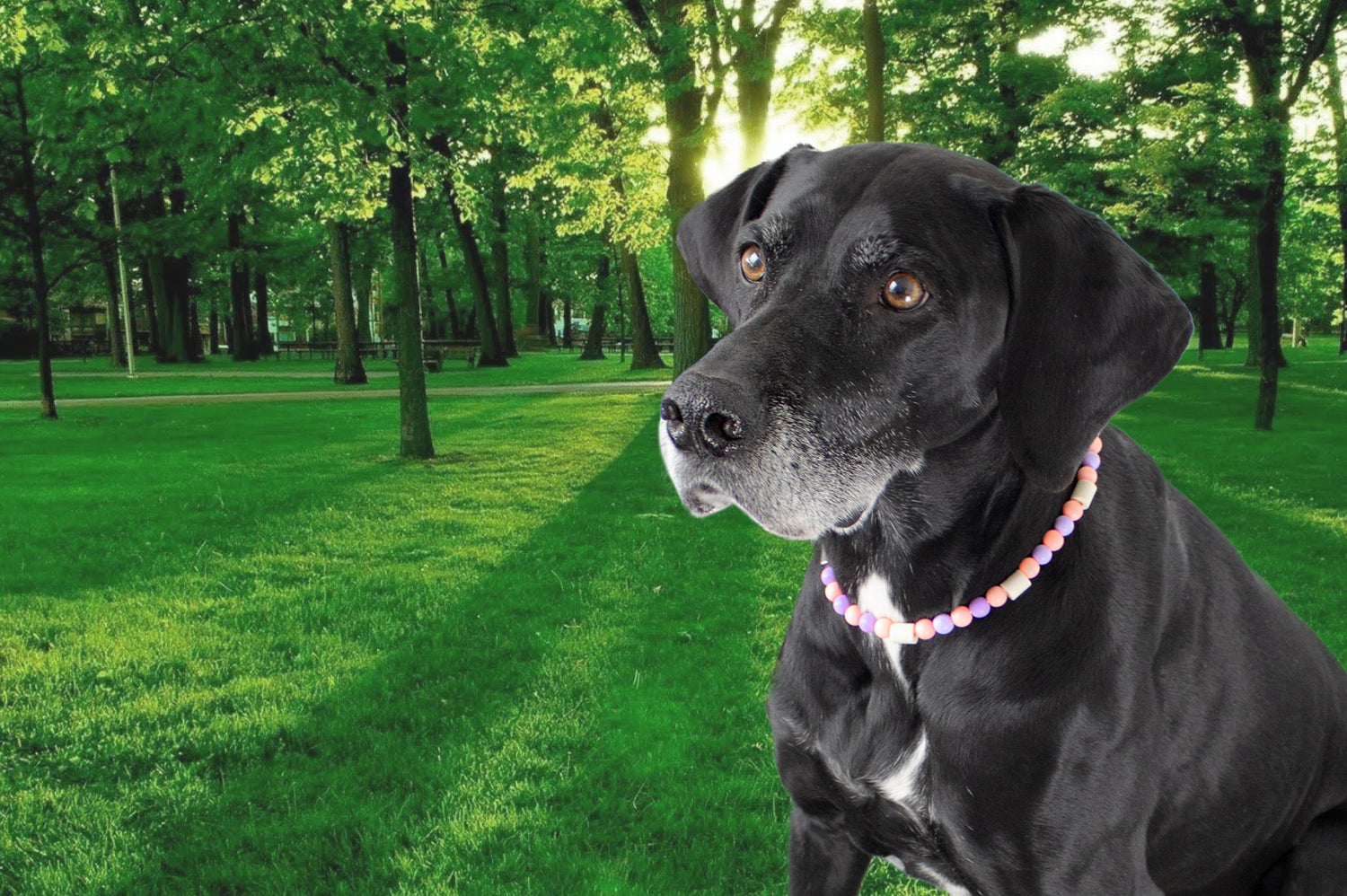 Do you have a four-legged friend who likes to be out and about in the great outdoors? Especially when the temperatures rise and spring begins, dogs like to be outdoors again with their owners. But you are not alone there, after all there are many dangers lurking in the high grass, such as ticks. It is therefore important that we take measures to protect them, especially during tick season.
A new possibility for this are ceramic collars for dogs. What exactly they are and how they should work, we explain to you in this blog.
What are ceramic collars?
A ceramic collar, or more precisely an EM ceramic collar, is a collar into which small ceramic parts, so-called EM ceramic pipes, are woven.
But what exactly is EM ceramic?
EM stands for "Effective Microorganisms". This is a mixture of microscopic bacteria and fungi that are said to have beneficial effects on organisms, such as lactic acid bacteria and yeast. Originally, these microorganisms were used for the cultivation of plants, where they are supposed to improve growth.
How do these microorganisms get into the ceramic parts?
The liquid mixture of bacterial and fungal cultures is processed together with clay and then fired at high temperatures into small ceramic tubes, which are later used to make the ceramic collars.
What effects should ceramic collars have?
Through this process, the effective microorganisms are supposed to cause so-called resonance vibrations in the ceramic, which are transmitted to the dog and influence metabolic processes. In this way, regeneration processes are promoted and a healthy skin flora is strengthened with natural microorganisms. In the environment created in this way, ticks should not feel comfortable and be reluctant to stay.
Has the effect of EM ceramic collars been scientifically proven?
No. Unfortunately, there is no scientific study that proves the anti-tick effect of ceramic collars. A study has examined the effect of effective microorganisms on plant growth, but has not been able to determine any positive effects.
Therefore, the recommendation of ceramic collars is based on positive experiences that dog owners have found with their four-legged friends. Some report that not only do they find fewer or even no more ticks in their fur, but that they have also noticed other positive effects on their pet's health.
On the other hand, there are no side effects with a ceramic collar, which is why you can put it on your darling without any worries.
What other tick repellent methods are there?
There are other tick repellent methods. A distinction is made between chemical and natural agents.
Some contain chemical agents that can drive away parasites or even render them harmless. These are either contained in sprays, liquids, tablets or collars. The most common are so-called spot-on preparations, i.e. liquid solutions that are applied to the neck or shoulder area, are absorbed by the skin and have a repelling effect on parasites such as ticks, fleas and the like. These are very effective, but can also have a number of side effects as the active ingredients can get into the skin and bloodstream.
On the other hand, there are a number of natural remedies which are said to have a deterrent effect on ticks and the like and which are also intended to strengthen the skin environment. The most well-known here is coconut oil, which is put directly on the coat or in the feed to keep ticks away. In addition, black cumin oil, yeast or even garlic are often recommended.
Otherwise, there are also amber collars, which, similar to an EM ceramic collar, are said to have a repellent effect on crawling animals due to vibrations and electrical charges. However, this alleged effect has not been scientifically proven either.
But if a tick bites, you can try to remove it yourself. There are 2 practical tools for this: tick tweezers or tick card . With both methods, with a little practice, you can get rid of the little pests in no time at all.
What should you consider when buying?
You can buy EM ceramics in the form of EM ceramic pipes, which you can use to make your own collar.
There are also EM ceramics as
ready-made collars
. There are many variations of these. They are beautifully designed and well made.
When you buy an EM ceramic collar, make sure it's the right size and fits your dog comfortably. In addition, you should also make sure that the ceramic collar is made of high-quality materials and is robust and durable.
Conclusion on the subject of ceramic collars
Ceramic collars are becoming increasingly popular with dog owners. No wonder, after all, they not only look great, but should also protect your four-legged friend from ticks. Since the effect has not been proven, you should not rely solely on the effect of an EM ceramic collar .
To be on the safe side, it is therefore better to use other tried and tested means of tick protection.
But you can try it without hesitation, as it poses no risk to your dog. Even if the effect has not yet been confirmed, one thing is certain: an EM ceramic collar is definitely a stylish accessory for trendy four-legged friends.
Sources:
https://www.em-kaufhaus.de/Natuerlicher-Zeckenschutz-fuer-Hund-Katze-Zeckenhalsband-Hausmittel-EM-Keramik-Co
https://zeckenhilfe.de/em-keramik-gegen-zecken-effektkeit-im-test/
https://praxistipps.focus.de/mit-keramik-gegen-zecken-vorgehen-das-steckt-dahinter_127933
https://www.diehundezeitung.com/em-keramik-halsband-effekter-zeckenschutz/
https://www.fellnasenparadies.de/em-keramik-bernstein/