Dietary supplements for dogs and cats - useful or superfluous?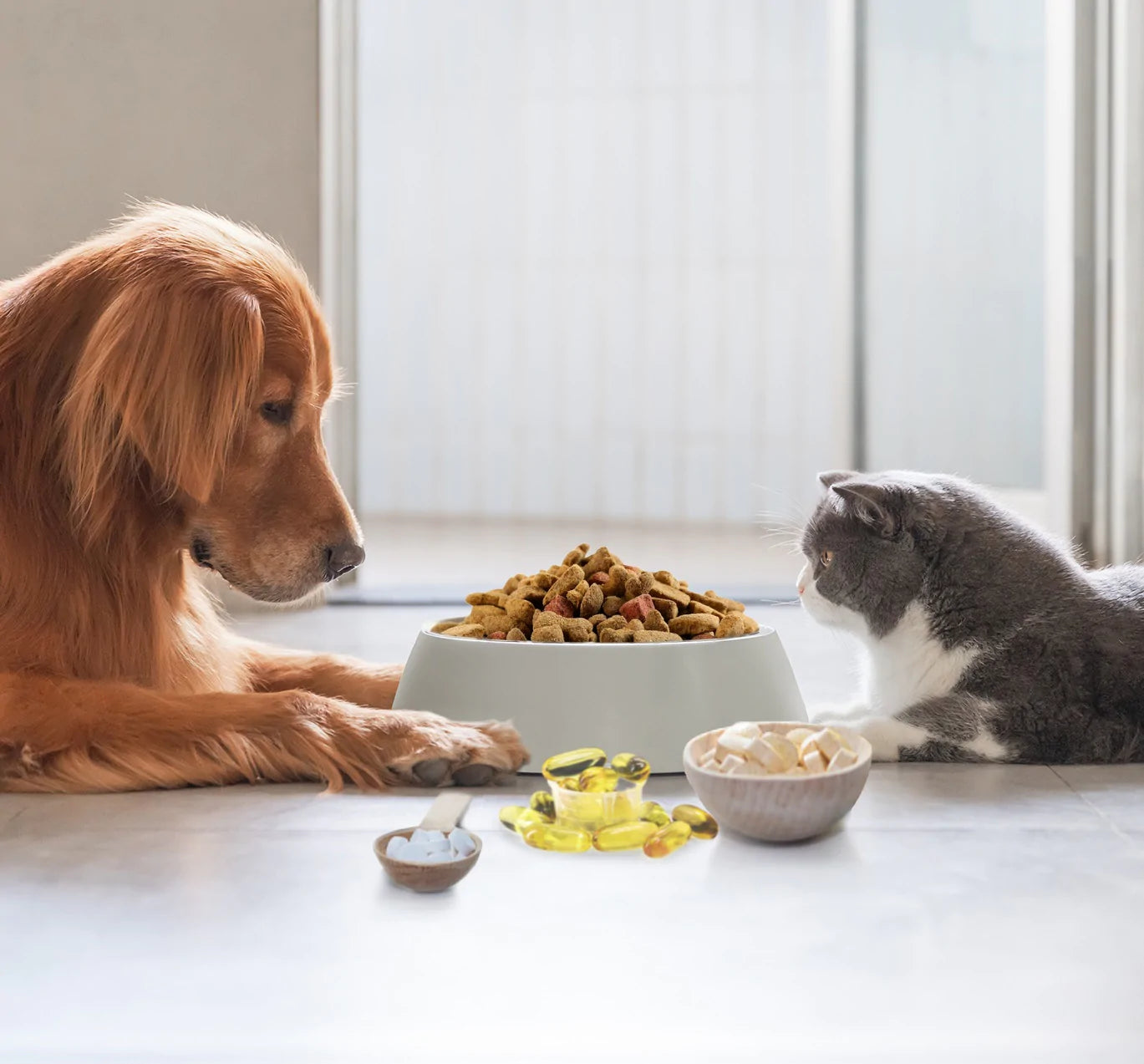 Surely you have heard of dietary supplements before. Brimming with vitamins and other active ingredients, they are said to support a healthy lifestyle and are therefore becoming increasingly popular. They can not only help us two-legged friends, but also our four-legged companions and keep them healthy. But what exactly are dietary supplements? Which ones are there for dogs and cats ? And do they really make sense or are they completely superfluous? Find out with our blog!
What are dietary supplements?
Dietary supplements or supplements for pets are additions to normal food, such as. B. vitamins, nutrients, natural extracts or minerals. Some of them are essential for a healthy metabolism , others have positive effects on the body. For example, if your dog does not consume enough essential vitamins , it will develop a deficiency symptom , which entails an increased risk of illness. On the other hand, non-essential substances have a supporting effect on the organism, e.g. B. a healthy gastrointestinal flora or ensure a healthy coat.
How can they be divided?

First and foremost, dietary supplements differ according to their origin. They are obtained from plants or animals or artificially produced in the laboratory.
There are also differences in the form of administration: You will often find dietary supplements as a powder, which you can easily mix with the food of your dog or cat. But they are also available as tablets, capsules, flakes or liquids, such as oils. Ideally, supplements are mixed with the normal food or fed like treats.
What are the benefits of pet supplements?
minerals
Minerals are vital molecules that are needed by the body in large or small amounts. In addition to bulk elements such as magnesium, calcium and phosphorus, trace elements such as iron, iodine, zinc and selenium must also be taken in through the feed in sufficient doses. An addition of minerals such as calcium is necessary for puppies , but also for pregnant bitches or cats.
vitamins and amino acids
Vitamins and amino acids play an important role in our lives. While amino acids form the building blocks of proteins and enzymes, vitamins support the organism in important processes. Unlike us humans, our pets can produce vitamin C themselves and therefore do not have to get as much of it from their food. Similar to us, our furry friends also need sufficient vitamins A, D, E and B vitamins . In the event of a deficiency, which can be determined by a veterinarian through a blood test, the addition of these vitamins via dietary supplements is urgently required. With old and young cats and dogs or with a lot of stress, during or after illness, the need for vitamins is increased and can e.g. B. can be mated with Carnivital by Carnimed.
Essential Fatty Acids
A number of fatty acids, such as omega 3 and 6 fatty acids , cannot be made by our pets' bodies either. These acids are found in many vegetable oils such as linseed oil, but also in animal oils such as fish oil. They are very important for the brain, nerves and heart, but also for healthy skin and a beautiful coat.
probiotics and prebiotics
They are among the most common additions and sound very similar. Probiotics are living microorganisms such as bacteria or yeast that live in the intestines and have positive effects on digestion. Prebiotics, on the other hand, are nutrients like carbohydrates that are selectively absorbed by the probiotics and thus serve as food.


Other herbal and natural extracts
Many plants contain high doses of vitamins, amino acids, and other nutrients, making them wonderful dietary supplements. For example , spirulina algae (e.g. from Biopur) have a good nutrient profile and are said to counteract bad smells.

But other valuable ingredients from nature can also prove useful for our four-legged friends. Green-lipped mussels, for example, contain glycosaminoglycans and omega-3 and 6 fatty acids, which promote the function and regeneration of the joints. Dietary supplements with green-lipped mussel extracts, which you can get from Aniforte , for example, are highly recommended for supporting joint diseases such as arthrosis.

What is the best way to use them?
When are dietary supplements useful?
The addition is important when there is an increased need for nutrients, for example for active or sick, growing and pregnant pets.
In the case of an unbalanced diet of your darling due to food intolerances, we advocate supplements.
If you feed your dog or cook it yourself, it is necessary to add nutritional supplements so that your fur nose does not lack any nutrients and to prevent a deficiency.
They are also recommended to support diseases (e.g. pro- and prebiotics for diarrhea or green-lipped mussel supplements for osteoarthritis).
When are they dangerous?
A lot helps a lot, but unfortunately that doesn't apply to dietary supplements. Oversupply can quickly backfire here. Conventional animal feed often already contains sufficient minerals and vitamins, so that problems such as gastrointestinal complaints or other damage can occur. In the case of intolerance and heart, liver or kidney diseases, supplements should be used with caution. It is best to get advice from your veterinarian in advance about which additives and in what dosage these are useful for your pet.


How do I recognize quality pet supplements?
natural ingredients, preferably organic
no chemical additives, binders, coloring or flavorings
reputable dealers, products developed together with veterinarians

Healthy bonus for us and our darlings
There are many dietary supplements that, when used correctly, have a positive impact on the health of our furry friends. But be careful: Only use food supplements that are specially made for your pet. Supplements for humans are not suitable because they can contain excessive dosages and additives that animals cannot tolerate.