Smoothies for dogs - unnecessary trend or ingenious?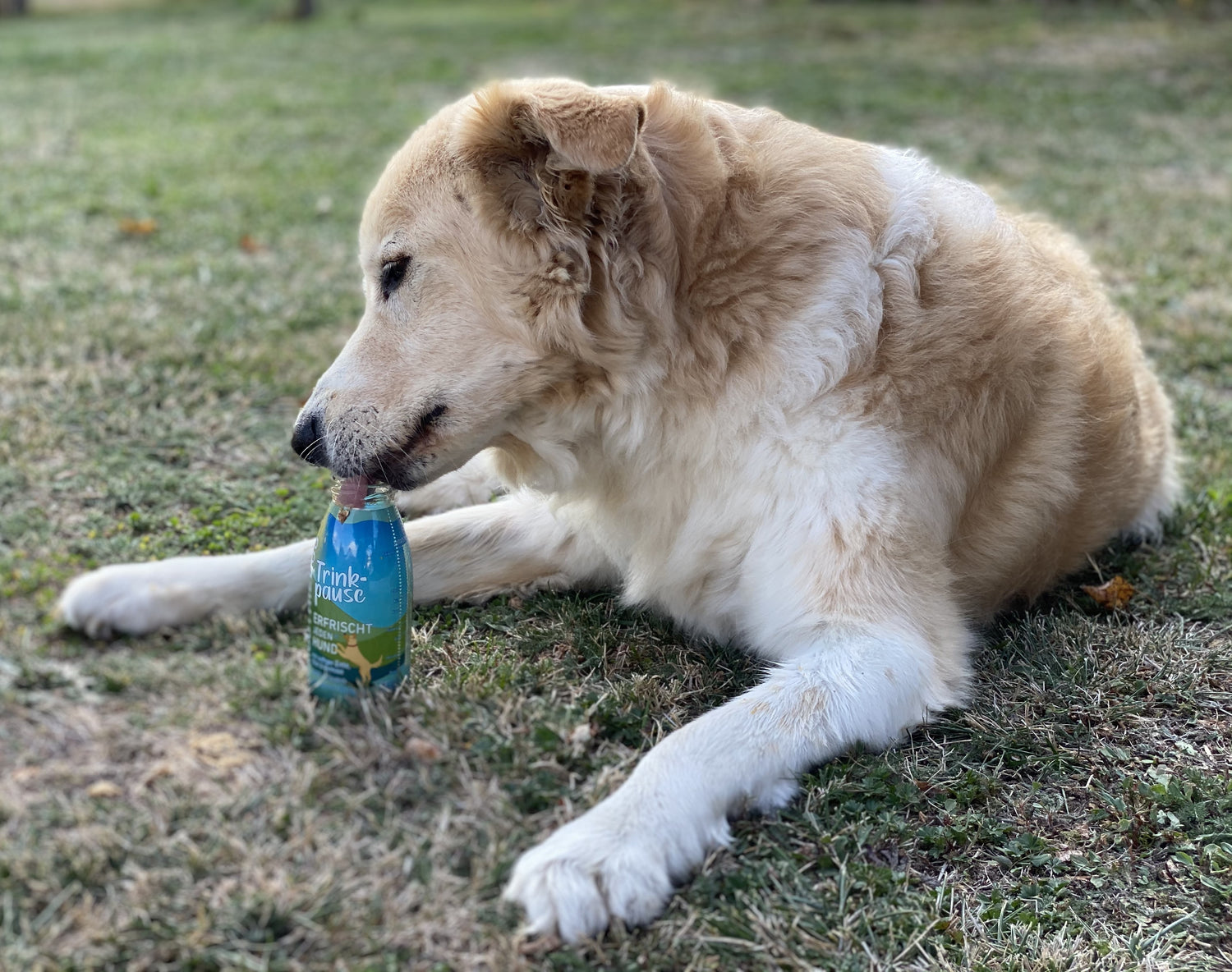 For human consumption , smoothies are nothing new. The colorful mixer drinks have been enjoying increasing popularity for years. Smoothies for man's best friend, on the other hand, are not very common. You might think this is newfangled nonsense again? In this article we explain what dog smoothies are all about. We will show you the advantages of smoothies for your four-legged friend , what possible uses there are and what you should consider!
Why smoothies for your dog?
At first glance, a smoothie for dogs may actually seem like a trend that will not catch on anyway. At second glance, however, the whole thing looks a bit different.
Many dog ​​owners know the problem: The darling simply does not drink enough. You often have to dig deep into your bag of tricks to make sure he drinks enough. This is a big challenge, especially in summer. Because when the temperatures are high, our furry friends should drink more.
Of course, water is not the most attractive thing - especially not for dogs who are lazy about drinking . This is exactly where dog smoothies can help. Very few four-legged friends can resist the taste of the "drink". Because a mix of beef, yoghurt and broth, for example, is much more appealing to dogs than a bowl of water.
That's why smoothies are perfect for dogs that don't like to drink or don't drink much. There are also some other great uses - but more on that later. First of all, you probably have another question.
Are dog smoothies really healthy?
That's actually often the first question dog owners ask - rightly so, because that's the most important thing!
There are often concerns that a smoothie is not natural for dogs . That's partly true, because you won't find dog smoothies in nature. However, just not in the form!
Dog owners can check the ingredients in smoothies before they buy them. This allows them to ensure that they really only contain healthy and natural ingredients. In addition, you can add a lot of liquids to the carefully selected ingredients. That's why smoothies with the right ingredients are even very healthy for your four-legged friend! Nevertheless, in addition to all the advantages, there are also a few things to consider.
Pros and cons of smoothies
Like anything, smoothies for dogs have positive and negative sides. But like all really good things, the list of pros outweighs the cons.
Let's start with the CONS:
No substitute for solid food
May contain unnatural additives such as preservatives
The list of disadvantages is actually very short. However, it is also important to know these points. You should never use smoothies as the sole feed for your furry darling. Solid food is important and no dog should have to do without it!
You should also pay attention to the right brand when choosing the ready-made smoothie. Of course, a healthy smoothie shouldn't contain a long list of artificial ingredients like preservatives or flavor enhancers! Below we will introduce you to a manufacturer that we completely trust. Transparency and naturalness are very important there – as it should be!
Let's get to the ADVANTAGES :
Easily digestible
High vitamin intake
hydration
Combination of healthy ingredients
Versatile uses
Numerous flavors
Due to the pureed form, the smoothies are very easy for your dog to digest. By adding oil, the nutrients can also be utilized particularly well.
We have already addressed the problem of drinking laziness - with this delicious "drink" that is definitely a thing of the past.
Another advantage is the combination of healthy ingredients. I'm sure you know picky dogs that pick and choose exactly what they want to eat. A healthy ingredient is then often pushed aside. Of course, that no longer happens in smoothie form.
This way you can make sure that you really drink all of it. You can also let your creativity run free when choosing ingredients or choose the tastiest flavor for your four-legged friend from a large range.
The possible uses of the smoothies are not just to simply pour it into a bowl and let it lap up. This is just one of many great ways to make your dog happy!
possible applications
Of course you make your loved one happy when you feed them a smoothie with their favorite ingredients. But that's not all. We present our top 5 possible applications:
Yes, you read that right! You can also use the smoothies as a basis for super tasty and healthy dog ​​biscuits! You can find a recipe and instructions at Smoothie-Dog!
Ideal for medication administration or dental problems
Most dog owners know how difficult it can be to administer medication. The bowl is not touched and the four-legged friend defends himself with everything he has. The problem can be solved super easily with dog smoothies: just add the liquid medication or grind up the tablet and mix it in. Try it yourself! Of course, smoothies are also ideal for four-legged friends with dental problems. If your little darling has acute dental problems, then smoothies are the perfect solution. You can still provide him with all the important ingredients without causing him any pain when chewing (temporarily, of course!).
Simply pour the smoothie into a doggy roller. So you can easily train your dog with a reward lick!
The smoothie does not just have to be drunk or licked. It is also ideal as a topping for dry food! Simply pour the smoothie over the pellets and turn the boring dry food into a real treat!
Tip: It is best to pour the smoothie over the food 20 minutes before feeding. By then the pellets have already absorbed the liquid and reached their full size. Then this doesn't just happen in your dog's stomach!
employment opportunities
Dog smoothies can be the ideal activity for man's best friend. For example, use a licking mat into which you fill the smoothie. Due to the nature of the mat, it takes some time for your four-legged friend to slurp all the liquid out.
Another great option is the smoothie as a Kong filling! Simply fill the smoothie into the Kong, cover with cling film and freeze. If the liquid is frozen, you can give your furry friend a long-lasting nibble pleasure. A delicious cool down, especially in summer!
Due to the versatility of smoothies, there are no limits to the possible uses! You know your dog best and you will surely come up with other great options for great snuggling fun!
Which dog smoothies are really good for your dog?
This question is one of the most important and at the same time fortunately easy to answer:
1. You should know what's inside.
2. You should know what is good!
If you buy smoothies for your four-legged friend, you should definitely use a brand that is transparent about its ingredients. Additives should be avoided, because naturalness should be a top priority!
At the same time, of course, good ingredients are crucial. Of course, incompatible ingredients should not be included, but high-quality food should be. Meat waste products are definitely not one of them!
We can therefore wholeheartedly recommend smoothies from SmoothieDog recommend. The company is 100% transparent with its ingredients and only uses the highest quality food.
If you want to try dog ​​smoothies but don't have the time to put yourself in the kitchen for long, hit up SmoothieDog the perfect choice.
If, on the other hand, you would like to try it yourself first, then we have two more recipe ideas for you!
Recipe ideas for dog smoothies
In principle, all ingredients that your dog tolerates can be used. Of course you can give him a special treat by using his favorite ingredients! It is important that the smoothie also contains a dash of oil so that the nutrients can be well absorbed. Fish oil, coconut oil and rapeseed oil are suitable for this.
1. Hearty Beef Smoothie
200 grams of boiled beef
1 tablespoon yogurt - 1 pre-boiled carrot
1 tsp canola oil
150 ml broth
2. The Healthy Egg Smoothie
150 grams plain yoghurt
50 ml meat broth
1 boiled egg
5 slices of banana
1 tbsp coconut oil Conclusion
Dog smoothies - awesome or unnecessary?
In our opinion, dog smoothies are by no means a short-lived trend and certainly not unnecessary! The list of advantages is long and ranges from a little joy in between to the solution of real problems such as dehydration.
Properly chosen (or prepared) smoothies are super healthy for your dog and at the same time incredibly delicious! This is a win-win situation for the four-legged friend and mistress.
With their possible uses as a snack, to support the administration of medication or as an activity, the smoothies are a real enrichment in the food range.
Plus, if you buy the smoothies from trusted suppliers like
SmoothieDog
or prepare them yourself, you can rest assured that only the best ingredients are included. That's why we think dog smoothies are absolutely brilliant!