Hiking with a dog – our tips for exciting adventures!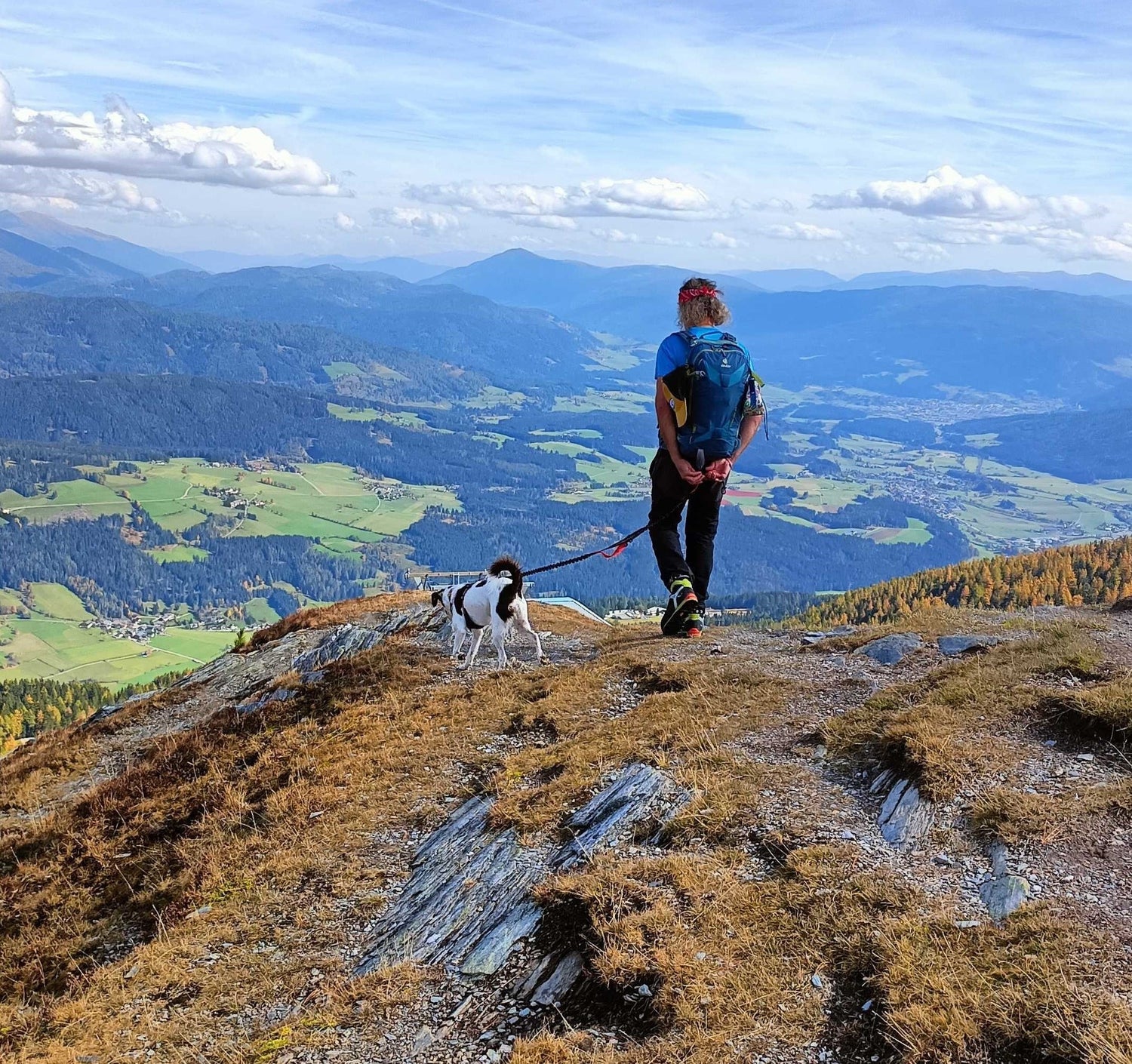 The dog is man's best companion. No wonder, after all, he faithfully follows us everywhere and is always happy to be with us. So why not while hiking ? After all, enjoying nature with pleasant temperatures and good weather doesn't just make us two-legged friends happy. In this blog, we explain what you need to pay attention to when hiking with your dog so that your adventure together runs smoothly.
How do I plan a hike with my dog?
In order to start a hike in a relaxed manner, good preparation and planning is a must . After all, there is a lot to think about when you are out and about with your dog.
Where can I hike with my dog?
Hiking in nature is beautiful and relaxing. But where should you go? No matter where you live, there are wonderful hiking routes everywhere. Whether in the forest, by the lake or even in the mountains, the possibilities are endless. Depending on where you go hiking, you have to consider different things: Does my darling manage steep paths in the mountains? Do I have to put my dog ​​on a leash in the forest? If you decide on a hiking route, think carefully about whether it is also suitable for your four-legged friend.
How do I get to the starting point?
If you don't have a suitable hiking route right on your doorstep, you have to get there first. In addition to the car, you can also use the bus or train to get to your destination. If you use public transport, it is important to know whether dogs are allowed and which tickets you may need to get for your furry companion.
How do I plan overnight stays?
If you are planning a multi-day hiking tour or a holiday, you usually cannot avoid one or more overnight stays. Finding a place to stay where you can take your dog is difficult, but not impossible. Find out by calling or online during the planning phase whether and which accommodations also allow dogs. Also don't forget to take enough food for your four-legged friend with you if you are going to be away for a few days.
What do I have to consider when hiking with my dog?
Which route is suitable for hiking?
The hiking route should be adapted to your dog. In addition to breed, age and condition are also important factors. Young, sporty dogs such as hunting dogs usually manage longer, even steeper distances without any problems. For older or small dogs, short distances without much incline are better. A hike is far too strenuous for puppies under one year old. In any case, always start with easy routes. If you and your furry friend have more experience and fitness, you can also try out more difficult and longer routes.
What does my dog ​​need to be able to do when hiking?
First and foremost, mastering all basic commands such as "sit", "stay" or "heel" is an important prerequisite. If your four-legged companion is out and about without a leash, you should also be able to retrieve it easily and reliably. A problem-free handling of hikers and other dogs that you meet on your hike is also essential.
How to deal with grazing cows and horses?
On a hike, you may come across grazing animals. It's best to put your nose on a leash when you walk past fenced-in pastures so as not to startle the animals. In the event that you z. For example, if you come across free-roaming cows in the mountains, also put your dog on a leash and walk past them quickly and at a good distance. Dogs pose a threat to cows, especially cows with calves, so it is not uncommon for cows to be able to attack. In case of an attack, unleash him so you both can run away quickly.
Is there a muzzle or leash requirement when hiking with your dog?
Basically, there is no general obligation in Germany to wear a muzzle or a leash when hiking. On some hiking routes and especially in national parks, however, leashes are usually required to protect wild animals. So find out in advance whether your companion can be off-leash on the desired hiking route. Of course, your dog should not have any hunting instinct and should be easily accessible. Always keep an eye on him and keep him close to you throughout the hike.
What do I have to take with me?
Thought of everything? The last check before departure
The preparation is complete, the route is planned, the backpack is packed. Then you can start!
Even if everything is ready, you should take a look at the weather forecast before starting your hike. If it is very hot, raining or even thunderstorms, it is better to postpone the hike to another day so that you can really enjoy your trip.
Other sources:
https://www.hundeurlaub.de/blog/2020/06/24/wandern-mit-hund-2/#:~:text=Your%20dog%20should be%20easy%2015,between%20you%20and%20your% 20dog
.
https://www.travel4dogs.de/wandern-mit-hund.html
https://www.auf-den-berg.de/wandern-mit-hund/